I received a free advance copy of this book in exchange for my honest review.
Call me morbid, but I'm kind of a sucker for cold-blooded assassins. When the author offered me a free read-for-review copy, I agreed without hesitation. The premise alone was enough to pique my curiosity: mysterious group recruits and trains troubled orphans to complete contract kills, and once the contractors complete 50 kills, they're entitled to 50% of the profits from said contracts. But everything is not as it seems…
I have to say that for the first half or so of the book, I anticipated rating it 4 stars. There was something about Young!Rath that irritated me a little, but I was curious enough about what would happen that I was willing to keep reading. I'm honestly not sure if I really love Rath as a character, but he did grow on me as the book progressed, and I do like his story.
I found all the contractors' technological capabilities really intriguing. At first I thought all their implants/hemobots/Forges would give them a level of power and skill that would make the things they did seem totally unrealistic, and while that was still the case to an extent, they didn't seem too out of place given the futuristic environment. I found all of the tools Rath used to solve problems really interesting, and even with his enhanced abilities, he still had to fight his way through every mission, so it didn't seem nearly as far-fetched as I was afraid it would.
As the story moved forward, I became more and more curious about what was going to happen. Realistically I probably would have given the book 4.5 stars, but I'm rounding up to 5 simply because I was pretty engrossed there toward the end. There were a couple of parts where I was thinking "Ehhhhh…I know this is sci fi but I doubt that could have actually happened" and I did feel like there were some kind of expository chunks of dialogue that gave the reader a lot of information that I would have preferred to figure out on my own. But neither of these things made me scoff or throw my Kindle across the room in disgust, so I'm just kind of overlooking them.
I do have to say that I appreciated the fact that the author has a military background and therefore used correct terminology when it came to firearms, tactics, etc.
One other small thing I enjoyed was the occasional glimpse into the control room where The Group was monitoring all of its contractors. There was something fun about getting that inside look, and I liked how those scenes also told us a little about what the other contractors were doing. I'm very excited to see how things play out with the other two contractors who have been introduced to the story, particularly Contractor 339…because if there's anything I love more than badass assassin characters, it's badass lady assassin characters!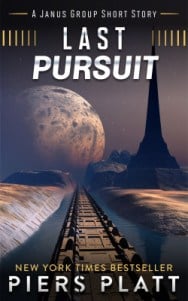 The intrigue of Jason Bourne meets the tech and grit of Terminator…in space. This is kind of a dark story verging on cyberpunk, but it's a story I enjoyed very much.
Oh, and it might be worth it to suggest reading the prequel short story, Last Pursuit. I actually read it while I was about halfway through this book. It could serve as a good introduction to the series, or in my case, a refreshing look back at a different character going through the same struggles as the characters in the main story.
"I grew up in Boston, but spent most of my childhood in various boarding schools, including getting trained as a classical singer at a choir school for boys. I joined the Army in 2002, and spent four years on active duty, including a year-long deployment to Iraq in 2004 as a tank and scout platoon leader.
When I'm not spending time with my lovely wife and daughter, I'm frantically working on my next book.
To be the first to hear about new releases – and get a free e-book! – sign up for my newsletter HERE."